How do you feel when you wear your glasses? If your glasses are new, they may not feel quite right at first—that's normal, and there are several reasons why new glasses often have an adjustment period.
The 5 common issues that make new glasses feel weird or uncomfortable include the following:
Your glasses have not been professionally fitted
You've switched to a new frame shape or style
Your eyes are adjusting to a new lens type
Your glasses are not tailored to your lifestyle
Your lenses have the wrong prescription
In many cases, the discomfort that can come with new glasses or prescription sunglasses fades after a few days. However, if your discomfort continues, it's important to speak with your eye doctor. A follow-up eye exam may be necessary to determine the cause of your discomfort and confirm your glasses are suited to your needs.
The 5 Common Reasons Your New Glasses Might Feel Weird
Not all glasses are made the same—or created for the same needs—so the reasons that your new glasses may feel weird can vary.
Some common reasons people experience an adjustment period with their new glasses include the following 5 situations:
1. Your Glasses Have Not Been Professionally Fitted
How often do you think about ordering new glasses online? Unfortunately, many glasses need more than just your vision prescription to fit properly, so it's essential that they come from an eye care professional.
When your lenses and frame don't line up correctly with your eyes, you may experience eye strain and headaches as your eyes struggle to adjust to lenses that aren't aligned correctly. A poor fit can also make your glasses feel too loose or too tight, leading to issues like your glasses sliding down your face or pinching your skin.
An optometrist or optician can take the time to complete a proper fitting by measuring details like your pupillary distance so your glasses can align properly with your eyes and sit comfortably on your face.
2. You've Switched to a New Frame Shape or Style
If you've recently switched from one frame style to another, your glasses may feel unusual at first—especially if you've been wearing one specific style for a long time.
Switching from large frames to small frames—or small frames to large frames—often comes with a brief adjustment period as you get used to the sensation of wearing glasses that have a different size and weight.
3. Your Eyes Are Adjusting to a New Lens Type
Your options for lenses extend beyond basic monofocal (single-vision) lenses made of the same material. As your eyes change, you may find yourself switching to bifocal or progressive lenses to correct new conditions like presbyopia, which causes age-related blurry vision up close.
Your lens material can also change between different pairs of glasses even when you have the same prescription, resulting in thicker or thinner lenses—or you may find yourself choosing a specific coating that you didn't have before, such as an anti-glare coating.
Any change to your lenses can add a brief, unusual feeling as your eyes first adjust to the differences between your old and new glasses.
4. Your Glasses Are Not Tailored for Your Lifestyle
How many hours do you spend working at a computer each day? How do your glasses help you avoid eye strain?
Wearing sunglasses when you spend a lot of time outdoors is certainly important, but what kind of coating do your sunglasses have to fully support your vision?
Anti-glare coatings on prescription glasses and polarized lens films on sunglasses can protect your eyes against glare from light reflected off computer screens or outdoor surfaces like water, glass, and snow.
If your eyewear isn't completely tailored to your daily needs, you may find that your eyes start to feel uncomfortable because of other factors that cause eye strain—especially if your last pair of glasses had coatings that your new lenses don't.
5. Your Lenses Have the Wrong Prescription
Your prescription can change over time, and when your prescription is too strong or too weak, your new glasses may not feel comfortable to wear.
If you've ordered new glasses online without first visiting an eye doctor for an up-to-date prescription, you may find your new glasses do not meet your needs for clear vision—and they may also make your eyes feel worse.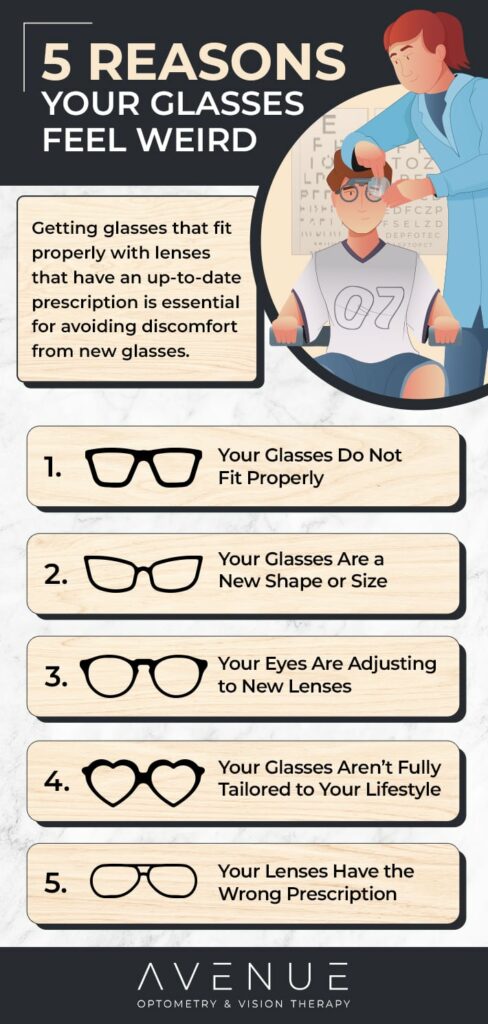 What Symptoms Can You Expect While Adjusting to New Glasses?
The adjustment period for new glasses can last from a few days to a few weeks, depending on your unique vision needs. During the time it takes to get used to new glasses, you may experience the following symptoms:
Visual distortions
Eye strain
Headaches
Difficulty focusing
Dizziness or nausea
Pressure near your temples or nose
If any of the symptoms above last for longer than a few weeks or continue to get worse as you wear your new glasses, take a break from your new glasses and schedule an appointment with your eye doctor.
We can examine your new glasses and your eyes to find the source of your discomfort and help you get relief.
How Do You Get Used to New Glasses?
Wear Your New Glasses Often
Getting used to new glasses takes time. Wearing your new glasses frequently helps your eyes adjust to changes in your lenses while you adjust to potential changes in the shape or size of your glasses.
Avoid Your Old Glasses
Switching back and forth between your new and old glasses can make it harder for your eyes to adjust to your new glasses and increase the amount of time it takes to get used to your new glasses.
Get an Adjustment
If you find that your glasses don't feel comfortable while you wear them, they may need an adjustment for how they fit. We offer repairs and adjustments on-site. You can visit us any time your glasses feel uncomfortable—we'd be happy to take a look at how your glasses are sitting and make adjustments to help you enjoy wearing them.
Where Can You Get Help Picking Glasses?
A precise glasses fitting can prevent or reduce many of the issues you may experience as you get used to new glasses. Visiting your optometrist or optician is essential for getting glasses that meet your vision needs and fit comfortably.
We love helping our patients find glasses that meet their needs and personality. Whether you want something chic and stylish or durable and fun, we have options for you to choose from. Browse our brands to get some ideas for your next glasses, or book an appointment for an eye exam to get started on your journey toward new glasses you love.