Contact lenses can be a great alternative to eyeglasses. They offer flexible vision correction with benefits such as an increased field of vision and more freedom for sports and other activities. In order to maintain healthy vision while wearing contact lenses, it's important to have regular eye exams.
The frequency of eye exams for people who wear contact lenses will depend on a few factors, including age, overall health, and visual needs. Generally, individuals who wear contact lenses should see their eye doctor every 1–2 years for a comprehensive eye exam. Wearing contacts may require you to have more frequent appointments to ensure the proper fit and prescription of your lenses.
Routine Eye Exams for Contacts
Routine eye exams are a key part of your eye care routine. During these appointments, your doctor can conduct a complete examination of your eye health and vision. This includes screening for things like corneal damage and dry eye disease, both of which can impact your ability to wear contact lenses.
A routine eye exam also includes a visual acuity test. This test can determine if there have been any changes to your vision that may impact your contact lens prescription.
Determining how often you need to have a routine eye exam will depend on a variety of health and lifestyle factors. Your optometrist can provide you with an exam schedule tailored to your individual vision and health needs, but generally, the Canadian Association of Optometrists recommends the following exam schedule:
Infants & Toddlers (0–24 months): first eye exam between 6–9 months old.
Preschool Children (2–5 years): at least one exam between 2–5 years old.
School Age Children (6–19 years): a yearly eye exam.
Adults (20–64 years): an eye exam at least every 2 years.
Seniors (65+): a yearly eye exam.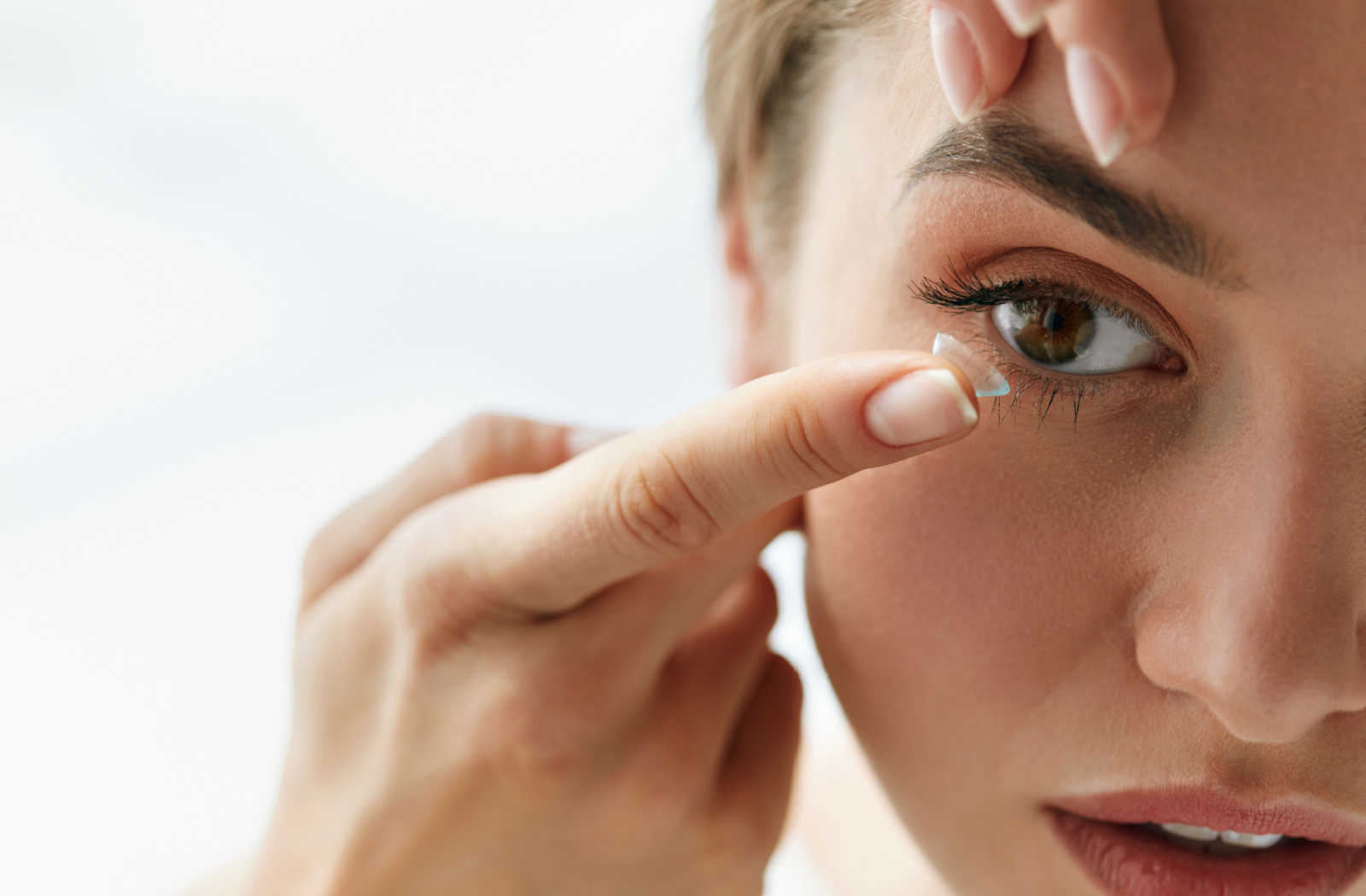 Contact Lens Exams & Fittings
While a routine eye exam can help to provide a full picture of your eye health and vision, it does not provide all of the information necessary to ensure healthy contact lens wear. During a contact lens exam, your eye doctor may take a closer look at your eyes by conducting measurements and evaluations such as:
Pupil and iris measurements
Cornea measurements
Tear film evaluation
Contact lens fit evaluation
These tests can help your optometrist make sure you're able to continue wearing contact lenses in a healthy manner. This exam will also give your optometrist an opportunity to evaluate your contact lenses and make any changes to the fit, prescription, or brand to help you find a comfortable fit.
In some cases, your eye doctor may include contact lens-specific testing as part of your routine eye exam, which may remove the need for an additional contact lens exam.
What to Expect from a Contact Lens Fitting
If you are new to contact lenses or looking to make a change to your lenses, it's essential to have a contact lens fitting. Contact lenses sit directly on your cornea, the clear dome-shaped outer layer of the front of the eye. Improperly fitting contact lenses can cause discomfort, and in some cases, damage to your cornea.
During a contact lens fitting, your eye care team can also educate you on how to properly wear and care for your contact lenses. This includes things like how to properly insert and remove your lenses, and how often you need to replace them. Proper contact lens care is an important part of maintaining healthy vision and avoiding eye infections and corneal damage related to wearing contacts.
Other Factors Impacting How Often You Need an Eye Exam
Wearing contact lenses is not the only factor to consider when determining how often you should visit your eye doctor. Individuals with certain eye and general health conditions may require more frequent eye exams to properly maintain healthy vision.
You may require more frequent eye exams if you:
Have diabetes or high blood pressure
Have a family history of eye disease or vision loss
Take medication with side effects that impact your vision
How often you need an eye exam will ultimately depend on your specific vision, health, and lifestyle needs. You may also need to see an eye doctor more often if you experience frequent changes to your vision or have a condition like dry eyes.
Book a Contact Lens Exam
Regularly checking in with your eye doctor is the best way to find contact lenses that suit your unique vision needs. The team at Avenue Optometry & Vision Therapy is here to support your vision care needs with routine eye exams and contact lens exams and fittings! Book an appointment with our team today.