Am I Able to Wear Contact Lenses with an Astigmatism?
Contact lenses are an excellent option to switch up your look from glasses while maintaining those same levels of vision correction. It all starts with a comprehensive contact lens exam and fitting with your optometrist.
But can you wear contact lenses with eye conditions like astigmatism? Let's explore the effects of astigmatism, different contact lens options, and how they can help with astigmatism.
What Is Astigmatism?
Astigmatism is a common vision condition that causes blurred vision. Astigmatism is classified as a refractive error and occurs when the front surface of the eye or the lens inside the eye is irregular or cylindrical.
An irregularly shaped cornea or lens can prevent light from focusing properly on the retina and result in your vision being blurred or distorted.
Larger amounts of astigmatism can cause:
Distorted vision
Eye discomfort
Headaches
When your astigmatism is interfering with your daily life and vision, it's time to visit your optometrist for solutions.
Astigmatism can develop at any age and has different risk factors like:
Genetics
Eye injuries
Eye disease
Previous eye surgeries
While minor cases may not require treatment, your optometrist can determine the amount of astigmatism through a comprehensive eye exam and update your prescription for contact lenses or glasses.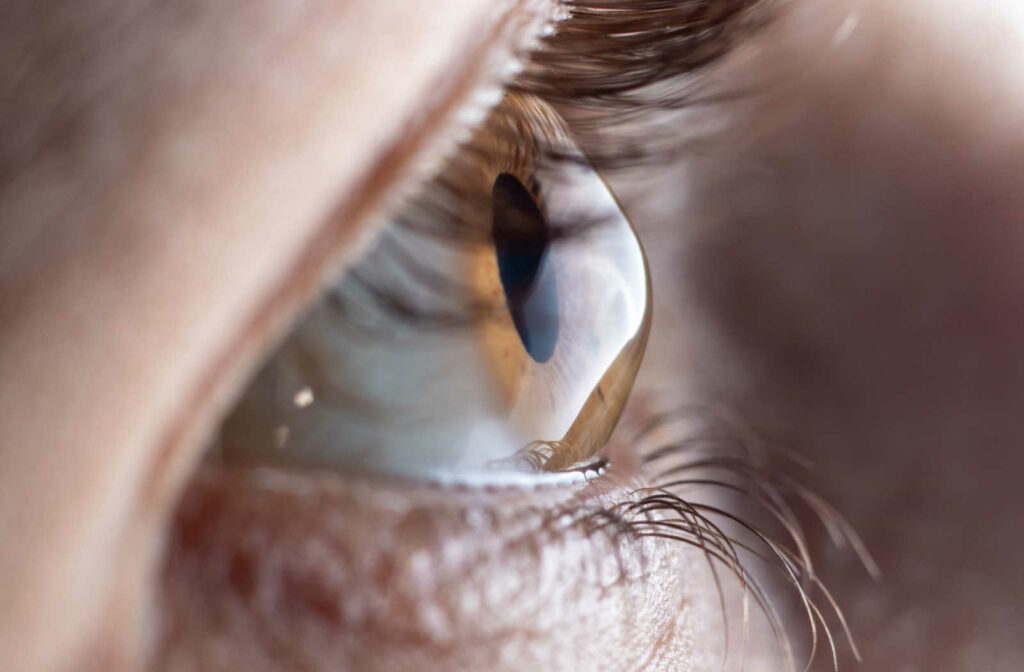 Wearing Contact Lenses with Astigmatism
Contact lenses are a convenient option for moderate astigmatism when you want a break from your prescription eyeglasses.
Toric contact lenses are specifically designed to correct astigmatism. Toric contacts are usually thicker, larger, and more stable than other contacts. These lenses also feature a 2 power design, with one correcting nearsightedness and the other farsightedness.
Because toric lenses have a spherical design resembling the side of a ball, they can require a more precise fit. You'll need to visit your optometrist for a comprehensive contact lens exam and fitting to get a safe and comfortable fit.
Toric lenses usually come in 3 main types.
Soft Contact Lenses
Soft contact lenses are good for mild to moderate astigmatism. These lenses offer softness and flexibility with an easy-to-use design that usually doesn't fall out. Soft contacts can be more challenging to fit and do not provide the same clear vision as the other types of toric lenses.
Rigid Gas Permeable (RGP) Contact Lenses
RGP lenses allow for greater oxygen flow and breathability. These lenses can take some time to get used to and may require a longer usage period for your eyes to adapt to them fully.
RGP lenses retain their shape when you blink and stay fitted better than other options. Good contact lens maintenance habits are essential for RGP lenses as debris can collect under RGP lenses and cause irritation.
Hybrid Contact Lenses
Hybrid lenses feature a rigid gas permeable center with softer edges made of soft hydrogel or silicone hydrogel materials. Hybrid lenses combine the comfort of soft contacts while providing the clear vision of RGP lenses.
Hybrid lenses also feature a large size with thin edges, making them less likely to fall out during physical activity.
Contact Lens Solutions for Astigmatism
Astigmatism is a common vision condition, and evolutions in contact lens technology have made them a viable option to wear to correct astigmatism. The first step is scheduling a contact lens exam and fitting to ensure you get that precise, comfortable fit. Book an appointment with your optometrist to update your contact lens prescription and address your astigmatism today.